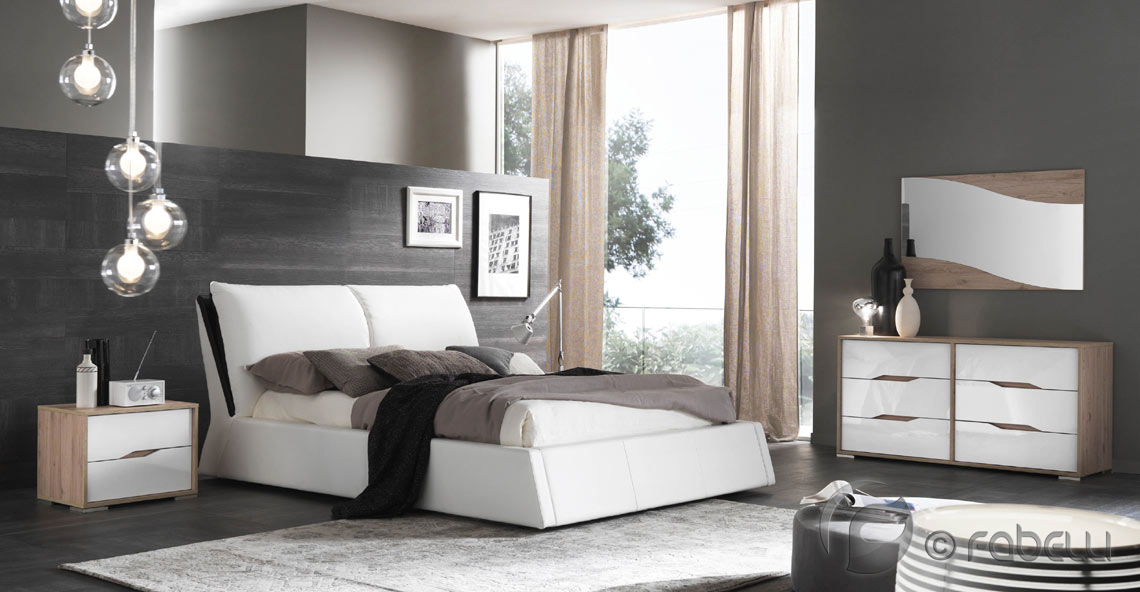 Contoured Modernism
The Bella delivers the ultimate in ultra-modern quality with its sophisticated design, superior workmanship and perfect stitching. The reclined headboard and matching footboard give the Bella its sleek aerodynamic profile and the generously padded, twinned back supports ensure ultimate comfort. The modern form continues to be emphasized by the fine vertical stitching on the footboard's upholstery.
The dresser and night stand add a twist to this modern bed group with their unique recessed pulls. The sophisticated minimalism and quality craftsmanship are repeated in the contrast between the front of the drawers finished in high gloss lacquer, and the oak wood finish used to make the dresser and night stand's body. The roomy drawers whisper open and closed on precision glides.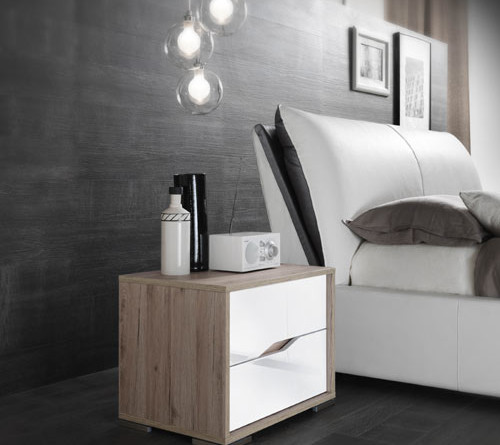 Alessio Specifications
Chest: 30″wide | 19.5″deep | 48″high
Dresser: 60″wide | 19.5″deep | 29.5″high
Mirror: 45″wide | 1″deep | 28″high
N. Stand: 23.5″wide | 16.5″deep | 18″high
Bella Bed Specifications
 QS Bed: 69″wide | 99″long | 41″high – Ships in three (3) boxes
 KS Bed: 85.5″wide | 99″long | 41″high – Ships in three (3) boxes
Box Measurements – Shipping Specifications
Queen Headboard: 69″ w | 41″h | 14″d
Footboard & Rails: 93″ w | 15″h | 14″d
Wooden Platform: 21″ w | 2.5″h | 81.5″d
King Headboard: 85″ w | 40″h | 14.5″d
Footboard & Rails: 94″ w | 15″h | 13.5″d
Wooden Platform: 26.5″ w | 2″h | 82″d
Features & Option
Numerous color options.
Available in Cal King, King & Queen.
Wooden platform bed. No box spring required.